Riveting. 'Goldstone' is the next great western movie. You don't wanna miss this one...reminiscent of David Mackenzie's superb 'Hell or High Water.'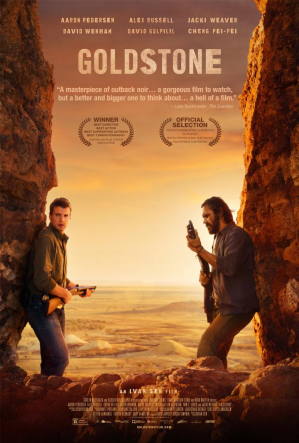 Spread the word about this film!
Last Chance! Thu. Mar 22
Goldstone
Indigenous Detective Jay Swan arrives in the frontier town of Goldstone on a missing persons inquiry. What seems like a simple light duty investigation opens a web of crime and corruption. Jay must pull his life together and bury his differences with young local cop Josh, so together they can bring justice to Goldstone.

"[A] socially conscious, supremely accomplished procedural thriller." (Eddie Cockrell, Variety)


Genre: Crime, Thriller
Runtime: 110 min
Language: English
FEATURED REVIEW: Serena Donadoni, Village Voice
Ivan Sen opens his slow-burn western 'Goldstone' with yellowed photographs of a frontier mining town, and although the film is set in contemporary Australia, it suggests that a modern community can feel as remote and lawless as the Wild West. In the Queensland outback, the combinatio...
Get Tickets
Click a
BLUE SHOWTIME
to purchase tickets
Note:
There were no showtimes for Wed, Mar 21st, so instead we're showing you showtimes for the next available date on Thu, Mar 22nd.